All on 4® Dental Implants
The All-on-4 treatment concept is a minimally invasive and graftless solution to provide you with a full-arch prosthesis or permanent denture with only four implants. This procedure provides a permanent, same-day replacement for the entire upper and / or lower set of teeth with a bridge or denture.
Your permanent denture is attached  directly to your jaw using four titanium dental implants. You won't have to worry about glue, loose dentures or removing your teeth while you sleep. Your denture is permanently attached and, after healing, you can eat the same foods you enjoyed with your natural teeth.
Our All-on-4 patients enjoy a natural-looking smile and functionality in about a day.
How it works
Tooth loss is often accompanied by bone loss in the jaw which can prevent patients from getting conventional, vertically oriented implants. In the All-on-4 treatment, implants are angled between 30 and 45 degrees in the anterior maxilla where bone density is higher. This overcomes any deficiencies in bone or jaw structures and eliminates costly and involved bone grafts.
These titanium implants have the ability to fuse with your bone over time. Over time, your implants will create connections with your living tissues enhancing the strength of the implant.
Who is it for?
The All-on-4 system was created for patients with no healthy teeth. In preparation for the procedure, some patients may need to have unhealthy teeth extracted. This can often be done at the same time as the All-on-4 procedure.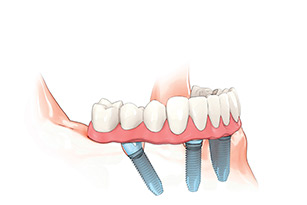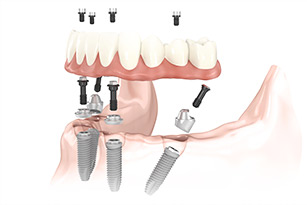 Benefits
Full-arch restoration
Shorter treatment time compared to other implant techniques
Prevents additional bone loss
Decreased need for bone grafts
Look and function like your natural teeth
Maintained like real teeth by brushing and flossing
have questions? Take a look at our FAQ
We also offer cosmetic services
Find out more at a-new-face.com
{"dots":"false","arrows":"true","autoplay":"true","autoplay_interval":"3000","speed":"600","design":"prodesign-11","rtl":"false","loop":"true","slidestoshow":"3","slidestoscroll":"1","centermode":"true"}